Microsoft word is the program that comes under the most constant text editor which comes with thousands of features. With Microsoft word application you can generate documents such as newsletter, books, resume, test papers, and many more. But as we know that every application has both advantages and disadvantages as a coin has two sides. Microsoft word also comes with its own share of problems. Like, when you do any work on your MS Word in between you get error MS word not responding at the top where the file name appears.
However, nothing to worry about, in this article you will get a complete guide on how to fix MS word not responding error by trying 8 easy ways.
[Best Tool] How To Fix Microsoft Word Not Responding?
The MS Word Repair Tool is one of the best & powerful software made for repairing and recovering corrupt or inaccessible MS Word files. It specifically designed for repairing any type of error and retrieves the text contents, images, charts, hyperlinks, tables, and much more.
This tool fixes severely corrupt .doc/.docx file formats generated from different versions of MS Word such as MS Word 2000/2003/2007/2010. It is compatible and works fine on Windows 2000/2003/XP/Vista/7 and Windows 8 newest OS. MS Word repair tool shows the preview of Word files, covers almost all Word file corruption errors and it comes with easy to use and self-explanatory interface.
So, just download, install, and try the steps to know how to fix Microsoft word 2016 not responding or any other kind of problem-related to MS Word file.
Steps To Repair MS Word When It Is Not Responding:
Step 1:  User needs to just select a single file by clicking on a 'Select File' option or simply on a folder that contains all word files. They need to click on the 'Select Folder' or need to find the file clicking on the 'Find File' option.
 Step 2:  As a list of the selected file is displayed, the user needs to thus make the selection of the Word file by using a checkbox that they want to repair. They need to select all files by marking the 'Select All' checkbox. After that, they need to click on the 'Scan' button.
 Step 3: He/she could easily saw the preview of the scanned file just by clicking on the file in both 'Full document, and 'Filtered text' formats by clicking the tab given on the middle pane of the window.
 Step 4:  If the scanned word file sis a*.doc file, then there will an available preview in the "Raw text" format along with the 'Filtered Text' formats and 'Full Document' and 'Filtered Text' formats.
Step 5:   For repairing, the user needs to simply click on the click on the 'Start Repair' option.  Then they need to make a selection of the option for saving their file from the 'Save Document' dialog box and thus click the 'Ok' button.
How Do I Fix Microsoft Word Not Responding Manually?
Below I have discussed all the possible ways to solve Microsoft word 2016 not responding Windows 10 error with ease.
Way #1: Disable Add-ins
The third-party Add-ins is one of the major reasons which can cause Microsoft Word 2007 not responding error. So, I advise you to simply disable Add-ins to fix this problem. Follow the easy steps:
First of all, access a Safe mode & start your Word document
After that, Go to the "File" and then "Word Options"
Next, you have to go to the "Add-ins" option.
At this time, make a tap on "Go" button which is located near a box "Manage: Com-in Add" named.
Finally, click on the checkbox to simply disable the add-ins that are listed there & click "OK".
Way #2: Open The Word in A Safe Mode
Well, starting the Word in a Safe mode will allow you to see if your program works fine or not. To open your Word document in safe mode, just try the below steps:
Press the Windows + R key together and type the winword /safe
After that, choose the "OK". Or you can press & hold Ctrl key and simply double-click a Word shortcut.
Now, if your Word file opens normally, then it means that the document is not corrupted. But, if you cannot open the Word file in safe mode then probably it gets corrupted.
At last, you have to go for Word repair tool to repair your damaged files.
Way #3: Fix MS Word Not Responding Error Using Open & Repair Utility
Another method to fix corrupt Word documents is to open and repair utility. So, here are the steps to try this utility and resolve this problem.
Step 1: First, open your Word on the system using safe mode
Step 2: Next, click the option Open in a left sidebar.
Step 3: Choose the Browse on the below screen to simply browse your PC for a problematic file/folder.
Step 4: Navigate to a folder where the file is stored, choose it. And, click on an arrow icon next to the Open
Step 5: Select Open & Repair.
Step 6: Then, MS Word will try to open your file & fix it.
Way #4: Try The Microsoft Office Application Recovery
In order to repair MS word when it is not responding error, you can try the Microsoft Office Application Recovery option.
Firstly, go to the Start and then All Programs
At this point, you need to click on the Microsoft Office Tools, after that MS-Office Application Recovery
Select the file which is not responding / opening when you will see the list of a currently running application.
In the last step, click on "Recover Application", then repair & recover a document in which you were working.
Way #5: Disconnect The Network Drive
Well, if you're using the network drive to directly save your Word files, then you can disconnect network drive from the PC to fix MS Word not responding.
Simply, go to the option My Computer and make a tap on it.
Next, choose the Disconnect Network Drive
Now, click on letter of a drive where the Word documents are stored to.
Lastly, click on the OK to simply disconnect your drive.
After completing all these steps, now your contents on a network drive can be easily accessed through Windows Explorer.
Way #6: Resolve Microsoft Office Suite
The problems with the MS Office applications including Microsoft Word are very common, hence these applications come bundled with the utility to repair any type of issues. For this, you need to follow the below steps:
Step 1: At first, you have to go to the Control Panel.
Step 2: Then, click on Uninstall the program option.
Step 3: Choose the Microsoft Office from the appearing list, and then tap on the Change.
Step 4: Now, choose the Quick Repair option on the screen & click the Repair.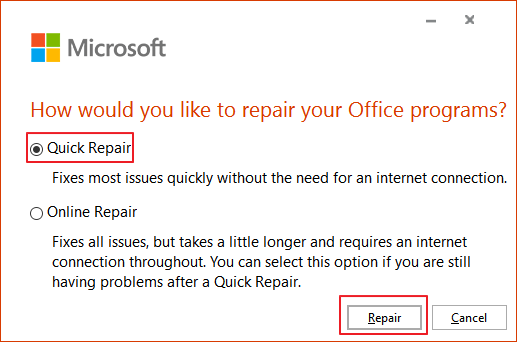 Step 5: But, if the Quick Repair unable to fix the problem, then go with an Online Repair.
Way #7: Changing A Default Printer
Sometimes, the error may occur due to printer settings. These printers aren't printers; they use to facilitate the people into sending the files to some other apps or another file type. So, to change the default printer, follow these steps:
Press the Windows + S together and then, type the "control panel" in a dialogue box to open the app.
Now, view the large icons option and choose the "Devices & printers".
At this time, you need to choose another printer and then choose them as the default by making right-click & choosing the option.
Finally, reboot the system and check whether the issue got solved.
Way #8: Repair the Microsoft Word
The error Microsoft Word not responding may take place because of the corrupted/damaged program files. So, you need to fix this problem as soon as you can. Here are the instructions.
First, make right-click on Start button then click on the Run.
Under Run Command Window, you have to type the appwiz.cpl  & click the OK.
Now, right-click the Microsoft Office, then click the option Repair.
Please Note: If a Repair option isn't available, then make right-click on the Change >> choose Repair in a pop-up & click the Continue option.
Why Does Microsoft Word Keep Saying Not Responding?
There could be many reasons for showing MS Word keep not responding error. Some of the major factors are:
Virus or malware attack – Virus is the main threat to files stored in your PC. It can corrupt your word application to malfunction.
Plug-ins and add-ons of software – Installed plug-ins and adds on of other software that is installed in your computer is used to believe leading troublemakers for the occurrence of such error.
Confliction of programs – If Microsoft word is getting conflict with any other programs, such type of error or message you will get.
Helpful Tips To Prevent MS Word Not Responding Issue:
Protect your system from the sudden power surge
Always protect your computer from Virus & Malware
Never use the MS Office program on the mapped network drive
Don't close the MS Word file suddenly.
Time to Verdict
After going through the above article, you might have observed – how to fix MS word not responding error in a trouble-free way.  But, if you want an instant way to repair MS word not responding Windows 10 error, then you must try the excellent Word File repair tool.
Also, you have noticed what causes the "Microsoft word keeps freezing and not responding" issue. Hence, try to avoid those errors and issues which might result in a Word file corruption issue.
That's all…
Steven Telfer is a senior writer at filerepairtool.net. He is a technology expert having over 4 years of experience and loves to write in different subjects like Video Repair, Microsoft Excel, QuickBooks, Word & others. He has a Master's degree in Computer Application and has solve many technical problems. In free time, he loves to read books and do research work to grow in his field.